GM trades a variety of rice from all over the world. Rice is a staple for nearly half of the world's seven billion people. However, more than 90% of this rice is consumed in Asia, where it is a staple for a majority of the population, including the region's 560 million hungry people. There are dozens of different ways to classify the scores of types of rice from all over the world, but rice is generally described as being, long grain, medium grain, and short grain. The primary differences are their cooking characteristics and, in some cases, a subtle flavor difference.
GRAIN TYPES
Long-grain rices have a long, slender kernel that is four to five times longer than their width. The cooked grains are separate, light and fluffy. Medium-grain rice have a shorter, wider kernel (two to three times longer than their width) than long grain rice.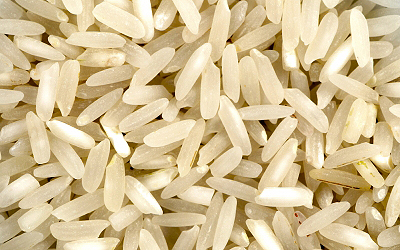 The cooked grains are more moist and tender, and have a greater tendency to cling together than long grain. Short-grain rice has a short, plump, almost round kernel. The cooked grains are soft and cling together; short-grained rice is used for risotto and sushi.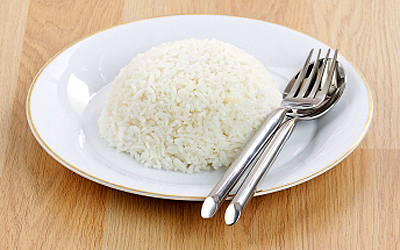 An aromatic, long-grain, slender, non-glutinous rice from India and Pakistan. When cooked it swells only lengthwise, resulting in long slender grains that are very dry, light and separate-not sticky. Basmati has been cultivated for centuries at the foot of the Himalayan mountain ranges. The rice is long-grain and scented; literally translated from Hindi, it means "queen of scents" or "pearl of scents." For centuries, it has been exported to the Arab countries, where many traditional rice dishes are cooked with basmati rice.
Brown Rice or Hulled Rice

Brown rice is unpolished rice, milled to remove the hull from the kernel but retain the rice bran layer and the germ, which give it a nutty flavor and chewy texture. It also has a lower glycemic index and is more nutritious because the bran contains most of the vitamins, minerals and fiber rich in minerals and vitamins, especially the B-complex vitamin group. (In contrast, white rice is milled to remove the bran layer for a milder taste and texture, and brown and white rices have similar calories, carbohydrates, fat and protein).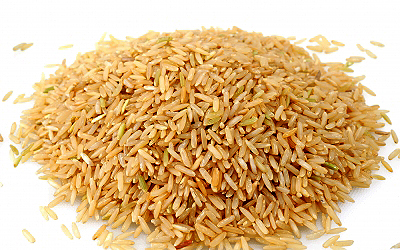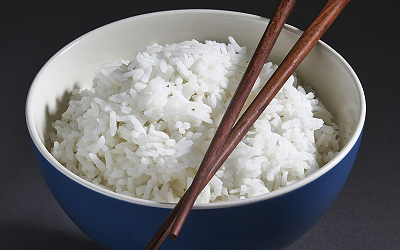 Grown in Thailand, jasmine is an aromatic long grain rice that has a distinctive jasmine aroma after cooking and a faint flavor similar to that of popcorn. The cooked grains are soft, moist and cling together. Jasmine is the most popular rice in Thailand and Southeast Asia. This excellent white rice cooks in similar fashion to basmati but possesses a rounder, more starchy grain (i.e., it's sticky, where basmati is not). It can be interchanged with white basmati rice in recipes. It naturally lends itself to coconut dishes and seafood dishes. Jasmine rice is a good source of B vitamins and complex carbohydrates.
Regular-milled white rice, often referred to as "white" or "polished" rice, is the most common form of rice. The outer husk is removed and the layers of bran are milled until the grain is white. While removing the bran and germ makes white rice more tender and delicate, it removes much of the nutrients as well. To compensate, converted rice uses a steam process to retain some of the nutrients.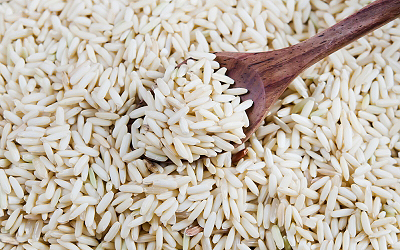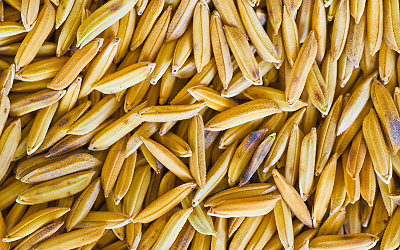 Wild rice grows in in shallow water. Instead of being cultivated, as the name indicates, it grows wild in small lakes and slow-flowing streams. There are four species of wild rice, three native to North America: Northern wild rice from the Great Lakes region, Wild rice, which grows in the Saint Lawrence River and on the Atlantic and Gulf coasts; and Texas wild rice which grows along the San Marcos River in central Texas. The fourth species is native to China, Manchurian wild rice.